Maître Joanna Mamczur – l'avocate fondatrice de Mamczur Law Firm (www.mamczur.com) a le plaisir d'annoncer que l'année 2020 était son deuxième mandat au cours duquel elle a été la Présidente Nationale de la Jeune Chambre Economique en Pologne – c'est-à-dire la Fédération Polonaise des Associations JCI – qui constitue la partie polonaise de l'organisation mondiale JCI (www.jci.cc) accréditée par les Nations Unies. La JCI rassemble de jeunes entrepreneurs et professionnels, depuis plus de 100 ans, éduquant de jeunes leaders pour un monde en transformation dans plus de 100 pays.
Joanna Mamczur est la première femme à occuper ce poste de direction en tant que la Présidente Nationale en Pologne pendant deux ans – il s'agit d'une exception au principe «one year to lead» dans les structures de l'organisation.
Lors du Congrès Mondial de la JCI organisé par JCI Yokohama, Japon de novembre 2020 – Joanna Mamczur a été élue à la structure européenne pour l'an 2021 – JCI European Development Council (EDC), une unité composée par ex. de Présidents Nationaux de JCI expérimentés. C'est une structure qui soutient les activités de l'organisation en Europe. En tant que membre d'EDC, Joanna Mamczur fera également partie d'une structure mondiale composée de dirigeants de tous les continents – le Comité Mondial de la Croissance et du Développement.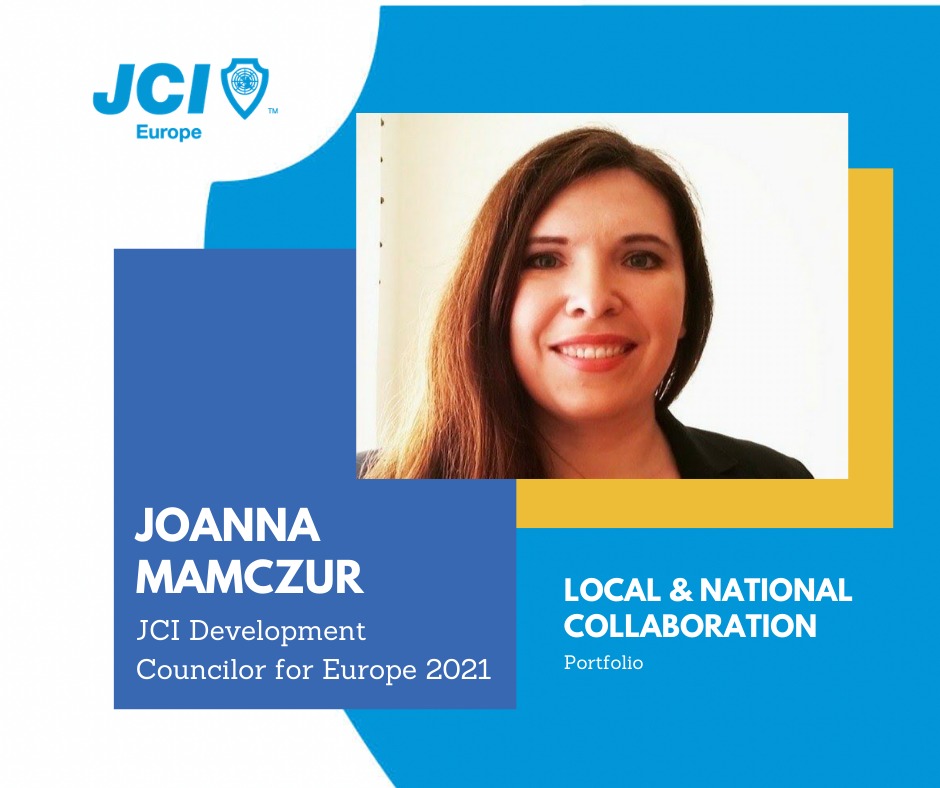 La sélection de Joanna Mamczur pour le rôle de leadership international a également été remarquée par l'organisation mondiale des femmes leaders – Female Factor, qui a récemment annoncé que Joanna Mamczur était la leader du mois dans sa communauté.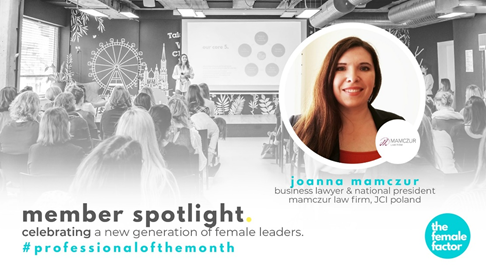 L'Association JCI offre des opportunités de développement dans 4 domaines:
– affaires,
– développement personnel,
– développement international,
– projets à l'impact social et environnemental.
Les opportunités offertes par l'organisation peuvent également être utilisées par les salariés des entreprises membres de la Chambre de Commerce et d'Industrie Franco-Polonaise en contactant directement à l'adresse office (at) mamczur.com.

En raison de son engagement actif dans JCI, qui est une organisation coopérant avec les Nations Unies, Joanna Mamczur soutient également la mise en œuvre des objectifs de développement durable (sustainability) et prévoit une série de discussions sur ce sujet pour présenter des exemples de telles activités, y compris entreprises membres de la Chambre de Commerce et d'Industrie France-Pologne qui peuvent montrer à la communauté internationale JCI les bonnes pratiques des entreprises associées – en tant qu'employeurs, producteurs, distributeurs etc.
Si vous souhaitez partager de telles bonnes pratiques dans le domaine du développement durable, impliquer vos employés dans des projets JCI ou poser des questions supplémentaires – veuillez contacter office (at) mamczur.com.

Le leadership au sein de l'organisation dans la période difficile de 2020 était un défi que Joanna Mamczur a été confrontée en développant la coopération existante et en construisant à distance une nouvelle équipe de jeunes professionnels engagés dans les grandes villes polonaises qui soutenaient activement des projets répondant aux besoins actuels – des réunions dans la formule Mastermind pour les entrepreneurs, des campagnes d'information dans les médias sociaux et des réunions éducatives internationales en ligne.
En 2020, Joanna Mamczur a été l'initiatrice, la modératrice et la conférencière de nombreuses réunions de ce type, notamment:
– «Mastermind Workshop – Sustainable Business» – ateliers sur le développement durable dans les entreprises lors de la conférence européenne organisée par JCI Dublin, Irlande;
– «Roadmap for developing business in a new country – common challenges» – lors du Congrès mondial JCI organisé par JCI Yokohama, Japon;
– "JCI Leadership Academy" – formation au leadership à Poznań, co-conduite avec un invité de Grande-Bretagne qui occupe la fonction mondiale de Vice-Président International de JCI;
– « Togethernet24h » – Initiative éducative et de networking en lige de JCI Finlande.
– "Penser globalement, agir localement" – réunion internationale de JCI Pologne sur des projets d'importance sociale et environnementale dans le monde;
– JCI pour les spécialistes de l'informatique – une réunion pour les programmeurs et les gestionnaires de l'industrie informatique montrant les possibilités de développer des compétences de leadership et un réseau d'affaires;
– Gestion de projet en informatique – une réunion pour les personnes intéressées par la gestion de projet en informatique avec un conférencier expérimenté d'Allemagne;
– « Privacy Shield between USA and EU invalidated – mitigation of compliance risk in IT »- conférence polonaise de premier plan dans le domaine de la cybersécurité;
– «Conformité à la confidentialité des données – étude des cas pratiques. RGPD en business » – formation pour les membres de la Chambre de Commerce Franco-Polonaise.
Vous êtes curieux de savoir plus sur la JCI ?
Joanna Mamczur a parlé des opportunités de développement au sein de l'organisation dans un certain nombre de publications, notamment:
Nous vous encourageons à coopérer dans le domaine de l'organisation conjointe de rencontres éducatives, notamment à utiliser l'expertise de Joanna Mamczur dans le domaine du droit économique international et à créer des projets dans le domaine de la RSE et du développement durable: www.mamczur.com