We support the education of your IT team – during our workshops, courses and webinars we explain the practical side of implementing and deploying personal data protection rules and cybersecurity requirements.
If you would like to train your developers, project managers, designers, testers, IT infrasctrure experts, compliance officers etc. with regards to the rules, procedures as well as the latest court decisions relating to the privacy breaches and security incidents – we will prepare a tailored workshop or course specifically for your team.

Watch a conference training: Privacy Shield between the USA and EU invalidated – risk mitigaiton in IT (Schrems II case)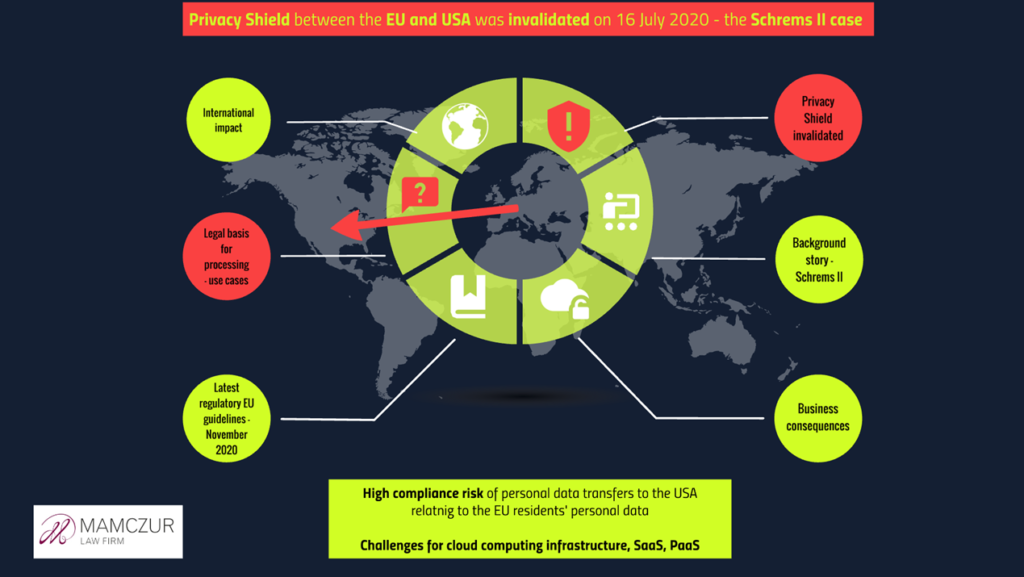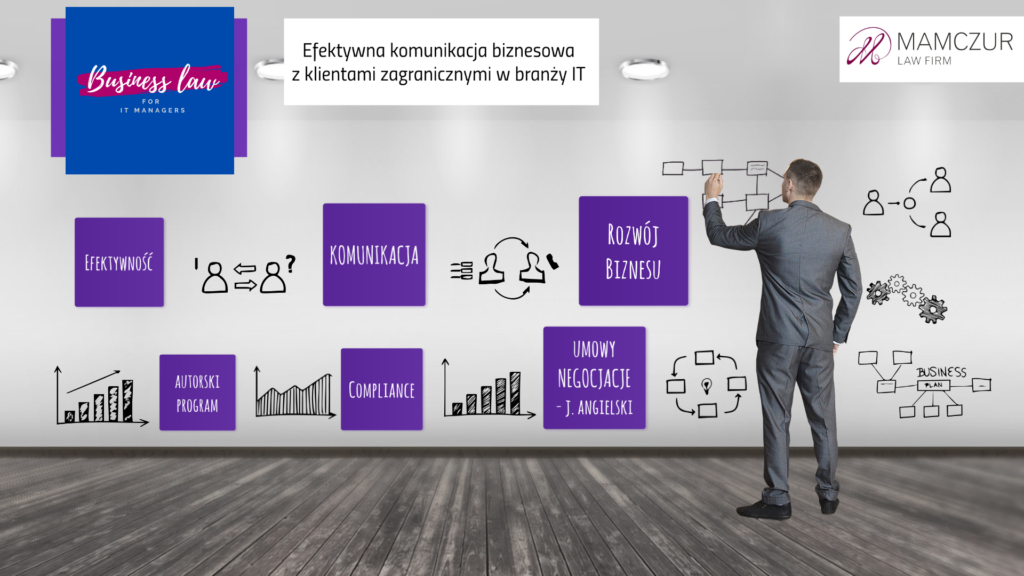 Międzynarodowe transfery danych, ochrona informacji poufnych, ochrona danych osobowych, cyberbezpieczeństwo – rozwój kompetencji prawnych i operacyjnych
Rozwój kompetencji prawnych, biznesowych i technologicznych niezbędnych dla pozyskiwania klientów zagranicznych B2B w branży IT
Wsparcie dla rozwoju biznesu w oparciu o cele zrównoważonego rozwoju (Sustainability) – wdrożenie dobrych praktyk w przedsiębiorstwach
---
Prawo | Biznes |Technologie
Środowisko międzynarodowe
Rozwiń kompetencje swojego zespołu w zakresie negocjacji, sprzedaży, wdrożeń dla klientów zagranicznych B2B.
Zostań skutecznym liderem – zwiększ swój wpływ na decyzje w firmie i efektywność pracy zespołu.
Program B2B for IT
Program B2B for IT został stworzony z myślą o liderach polskich firm technologicznych, które są w fazie wzrostu i dążą do pozyskiwania klientów zagranicznych. W związku z tym ich zespoły potrzebują rozwinięcia nowych kompetencji, by umożliwić świadczenie usług wysokiej jakości dla wymagających klientów.
Zapoznaj się z korzyściami autorskiego Programu
Software House

B2B for IT
International | Business | Law
Program B2B for IT powstał z myślą o firmach tworzących oprogramowanie, które stopniowo rozwijają swoją działalność i pozyskują klientów zagranicznych.
Współpraca z takimi klientami wiąże się niejednokrotnie ze specjalistyczną wiedzą prawną, biznesową, koniecznością sprawnej analizy dokumentów w języku angielskim, przeprowadzenia researchu rynku oraz uzgodnienia z klientem zasad współpracy.
Współpraca z zagranicznym klientem oznacza zaś systematyczne raportowanie, integrację licencji napisanych w języku angielskim oraz niejednokrotnie także renegocjacje zasad realizacji projektu.
Są to kompetencje, których zespoły IT najczęściej uczą się w praktyce "na klientach" i na swojej firmie, niejednokrotnie narażając ją na ryzyko finansowe.
Program B2B for IT powstał po to, by pomóc Ci zarządzać relacjami z klientami zagranicznymi w sposób bezpieczny dla Twojej firmy i zespołu – tak, aby programista, team leader, project manager, zarząd software house'u i osoby z Wami współpracujące wykształciły niezbędne kompetencje prawne, biznesowe i komunikacyjne bez zbędnego eksperymentowania w pracy na finansach Twojej firmy.
W ramach 8-tygodniowego programu szytego na miarę członkowie Twojego zespołu nauczą się podstaw komunikacji w cyklu życia projektu:
od Business Development, przez realizację – po jego akceptację przez klienta.
Zdobędą nowe kompetencje m.in. w zakresie:
różnic kulturowych w komunikacji,
analizy dokumentacji w języku angielskim,
negocjacji umów,
zamykania sprzedaży,
wdrożenia projektu i integracji licencji,
reagowania w sytuacjach stanowiących wyzwanie biznesowe.