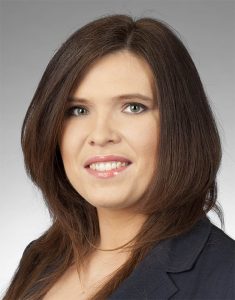 Joanna Mamczur is an attorney-at-law in Warsaw. For several years she has been advising her Polish and international Clients in the field of commercial law.
Languages: Polish, English, French and German.
Expertise includes: Banking & Finance, Corporate Law, Mergers & Acquisitions and negotiations of commercial contracts.
Joanna Mamczur also advises in the field of Capital Markets, securities law, investment funds and other finance issues which are subject to the regulatory supervision.
Executive MBA

– French Institute for Management in Warsaw.
Germany: LL.M. Finance at the Institute for Law and Finance (Goethe Universität, Frankfurt am Main) – postgraduate studies in international financial law.
France: University in Paris – Maître en droit (Master of Laws, business law).
France:

 

University in Tours – postgraduate studies in French law.
Advocacy traineeship in Warsaw.
University in Łódź, Poland – Master of Laws. 
Several international conferences, including Paris, London, Berlin, Dublin, Vienna, Frankfurt am Main, Munich, Warsaw, Finland, Sweden, Switzerland.
Mamczur Law Firm provides business entities with

fully-fledged legal solutions

. We combine legal knowledge with

experience and the market insights

.

Our solutions are focused on securing our clients' interests. The

legal advice

is

efficient

and

practical

– adapted to individual needs of our clients.

The legal advice is offered in

foreign languages

– which accelerates communication in international transactions.
Mamczur Law Firm provides legal support for transactions concerning:
company law and commercial contracts,
GDPR – personal data protection,
IP/ IT, incl. start-up businesses.
Origins
Mamczur Law Firm has been established by attorney-at-law/ adwokat Joanna Mamczur in 2014 in Warsaw as business law practice focused on international corporate law, real-life challenges and people.
Mission
We believe that people are the key assets of companies and that true leaders grow through challenges. Our goal is to support them in their growth and help them develop successful businesses.
Our cooperation principles
Clients who cooperate with Mamczur Law Firm appreciate the individual approach to their requests, clear guidance through the complex legal and business matters and the focus on simple, transparent solutions.
Our communication with Clients starts with asking questions which enable us to undersand the specifics of their business, daily challenges, see through the internal stuctures as well as external challenges such as competitors or regulatory changes.
This approach not only brings us closer to the business specifics but also enables a better communication with the business owners and their staff. As a consequence, we often become a part of their Team and support in the daily decision-making process rather than just one-off counsels.
We highly appreciate working on interntional aspects of business, whether for Polish Clients who negotiate contracts with foreign business partners – or for foreign companies that seek to expand their business in the Polish market.
Click here to read more about our story
Now that you know us a little bit better, let's get to know each other.
What's your story? What are your challenges?
How can we help YOU in achieving your goals?
Let's talk. We are curious in what challenges we could support you with our know-how and experience.
Do you have any questions?