We are pleased to inform you that as a part of the development of our educational activities we have launched a GDPR resources platform with selected information, documents, videos and courses on personal data protection under the GDPR. Soon we will also make available other e-learning products which will allow you broaden your knowledge in online courses on our e-learning platforms.
You will find more information at: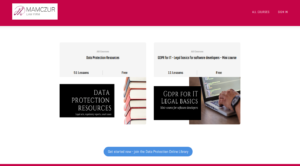 Anyone who has known us for sometime has already noted that we've also held, a number of trainings, meetups and webinars where we shared the knowledge about the GDPR compliance and implementation.
Should you have any individual requests regarding such meetings, feel free to contact the Law Firm at: office@mamczur.com.